H3 Hummer Limousine Hire
The H3 Hummer limousine hire is the ideal way to add a bit of luxury to any event or occasion. This truly stunning vehicle is just one style of Hummer limousine hire that Hire Hummer Limo company can provide its customers Nationwide. No matter which part of the UK you are in whether it be London, Devon, Birmingham, Coventry, Hastings or Liverpool, Hire Hummer Limo can get the best Hummer limousine hire direct to you to help you celebrate your occasion in style.
The H3 Hummer limousine hire from Hire Hummer Limo comes in a wide range of colours including white for weddings, black for business meeting, airport transfers and other corporate events and a selection of bright, exciting colours like yellow, pink, orange and blue, ideal for promotional events, birthday parties and children's parties.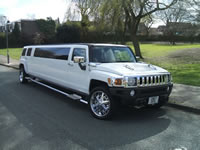 The H3 Hummer limousine comes complete with its own drinks bar with complimentary Champaign, wines or soft drinks, TVs, strobe lighting, wooden floors, neon lighting, a wide range of interiors including leopard and leather seating, stainless steel and marble accessories, stereo system with subwoofers, air conditioning, privacy windows and DVD/CD players.
The H3 Hummer limousine can generally cater for up to 10 passengers so the H3 Hummer limousine is ideal for many group events like hen and stag nights, music festivals, shopping trips, birthday party transport, school proms, Royal Ascot and many more.
All the Hummer limousine hire from Hire Hummer Limo, including the H2 Hummer limousine hire, Baby Hummer limousine hire and Hummer style limousine hire are regularly checked to make sure they are road worthy and safe for our customers. Hire Hummer Limo has had all its limousines, drivers and admin staff fully trained, licensed and insured to comply with VOSA (Vehicle and Operator Services Agency) limousine hire laws. The limousine law now states that 8 or less passenger seat limousine hire, now has to be in possession of a SVA (Single Vehicle Approved) certificate or IVA (Individual Vehicle Approved) certificate. Limousine hire that carries between 9 and 16 passengers must be in possession of a COIF (Certificate of Initial Fitness) in order to legally carry this amount of passengers.
Hire Hummer Limo offers a satisfying service which is safe and reliable, which abides by all limousine laws set by VOSA. You can guarantee that with the H3 Hummer limousine, your event or occasion will be one that will be etched into your memory for years to come and one that you can recommend to family and friends. For more information on the H3 Hummer limousine hire or any other Hummer limousine hire or Hummer style vehicles that Hire Hummer Limo have to offer, please call us and a member of staff will be happy to help.